TANGIBLE PERFECTION
American Made Beverages is the next generation in high quality liquors based out of Orlando, FL. We strive to develop and deliver to your taste buds the smoothest in alcoholic beverages, while giving back what we can to the great United States of America. We bring imported luxury beverages to the party without the "imported" part. We urge anyone consuming our product to please drink responsibly and have made a commitment to help raise awareness about the consequences of getting behind the wheel intoxicated. Every member of our staff has a perpetual drive to achieve perfection. This pursuit for perfection is where our customers will truly benefit for years to come.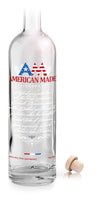 An Army of Flavor
Simple, smooth and delicious. AM American Made (TM) spirits boast a simple and smooth taste to enhance your recreational drinking experience. Our mission is to create less burn and more flavor in every sip while producing, bottling, and selling our products in and throughout the United States of America. The free, democratic soil beneath American Made's founding father's shoes are what allowed such a great brand to become a household name. As we continue to grow, we invite you to live this American dream with us, holding your glass with pride knowing that it was brought to you using the freedom and opportunity this country provides us all with. We care about our supporters which is why we will continue to make delicious alcoholic beverages that peak in every class they are a part of. It's all about being the best, and we can assure you, we are.
Short & Sweet
Our smooth Italian styled, lemonade cordial developed and produced here in the USA will have you saying mamma mia in no time at all. We use absolutely no artificial flavoring in this delicious dessert liquor infused with our signature American Made Vodka. Our lemons are grown in Florida and we bottle right here in the USA. Our limoncello offers creamy texture when it hits your palette with a pop of lemon and sweet after taste that will have your mouth watering for another sip.
Only the best Organic, locally sourced lemons are used in our recipe bringing a refreshing blend of all natural ingredients to your palette. Our recipe boasts a more pure and sophisticated flavor that is a favorable outlier to the current sugar-heavy Limoncellos on the shelf today.